tk10 - Experimental Software for
the ICOM IC-R10 Receiver
Copyright 2004, Bob Parnass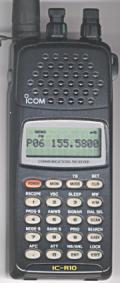 Overview
tk10 is open source software designed for the ICOM IC-R10 receiver. Though tk10 is intended chiefly for Linux, MacOS X, and BSD users, it is designed to work on Microsoft Windows (95 and later), too.
The current, experimental version of tk10 can:
Read a memory image from an IC-R10 receiver or a disk file. tk10 can read a native t10 file.
Using a graphical interface, display data from a memory image and let a user change various settings.
Sort memory channels by frequency or label.
Swap pairs of memory banks.
Import memory channel data from and export to a csv (comma-separated values) file.
Write the results back to the radio.
I implemented tk10 in the Tcl/Tk scripting language which enables it to run on a variety of operating systems, including Linux, MacOS X, BSD, Microsoft Windows (95 and later), etc. The free Tcl/Tk interpreter software must be installed on your computer prior to using tk10.
tk10 is distributed free of charge, but it is neither shareware nor in the public domain. tk10 is a copyrighted work released under the terms of the GNU General Public License as published by the Free Software Foundation. tk10 is distributed in the hope that it will be useful, but WITHOUT ANY WARRANTY; without even the implied warranty of MERCHANTABILITY or FITNESS FOR A PARTICULAR PURPOSE. See the GNU General Public License for more details.
Memory Channel Files
tk10 can export memory channel data to a file. The memory channel data file is formated in csv (comma-separated values) format. The first line of the file is this heading:

	Bank,Ch,MHz,Mode,Skip,Att,Label

All the other lines will contain these fields:


	Bank letter (A - P)
	Channel number (0 - 49)
	Frequency in MHz (.005 - 1599.995)
	Mode, case insensitive (optional: am, nfm,
		wfm, cw, usb, lsb)
	Skip (optional: skip)
	Attenuator (optional: att)
	Channel Label (optional: up to 8 characters)

This is a sample memory data .csv file:


Bank,Ch,MHz,Mode,Skip,Att,Label
A,0,162.55000,NFM,skip,,"NOAA Chi"
A,1,7.255,LSB,skip,,"ham net"
A,2,155.37000,NFM,,,"Lisle P"
A,3,155.46000,NFM,,att,"IL St P"
A,4,155.47500,NFM,,,"IL St P"
B,0,154.17500,NFM,,,"DuComm F"
B,1,154.41500,NFM,,,"DuComm F"
B,2,45.36000,NFM,skip,,"DPC L"
C,0,866.23750,NFM,,,"Nprvl1"
C,1,866.62500,NFM,,,"Nprvl2"
C,2,867.03750,NFM,,,"Nprvl3"
C,3,867.57500,NFM,skip,,"Nprvl4"
D,1,159.15000,NFM,skip,,"PS"
D,2,151.80500,NFM,,,"Security"

You can use a separate text editor or spreadsheet program to create, edit, and print memory channel files.
Computer Interface Adaptor
You will need a suitable TTL-to-RS232 level shifter to connect the radio to your computer serial port. A direct cable connection won't work and could damage the radio and/or computer serial port hardware. I have tested tk10 with two different cables:
Acknowledgments
Thanks to Joost van Stuyvenberg for compiling an IC-R10 memory map. Bruce A. Pope published detailed information about the IC-R10 protocol and file layout in his paper entitled Everything You Always Wanted to Know About the IC-R10 that Isn't in the Manual, available from the Files section of the Yahoo Icom_R-10 discussion group. Additional IC-R10 information may be viewed at the ScanShack web site.

Mike Failing lent me his IC-R10 for testing the software. Thanks also to Les Butler, Jim Cooper, Ted Hay, Bill White, and others for testing tk10 and providing memory images.

tk10 is undergoing development. To download a beta test version, including source code, click on the appropriate link to the left.